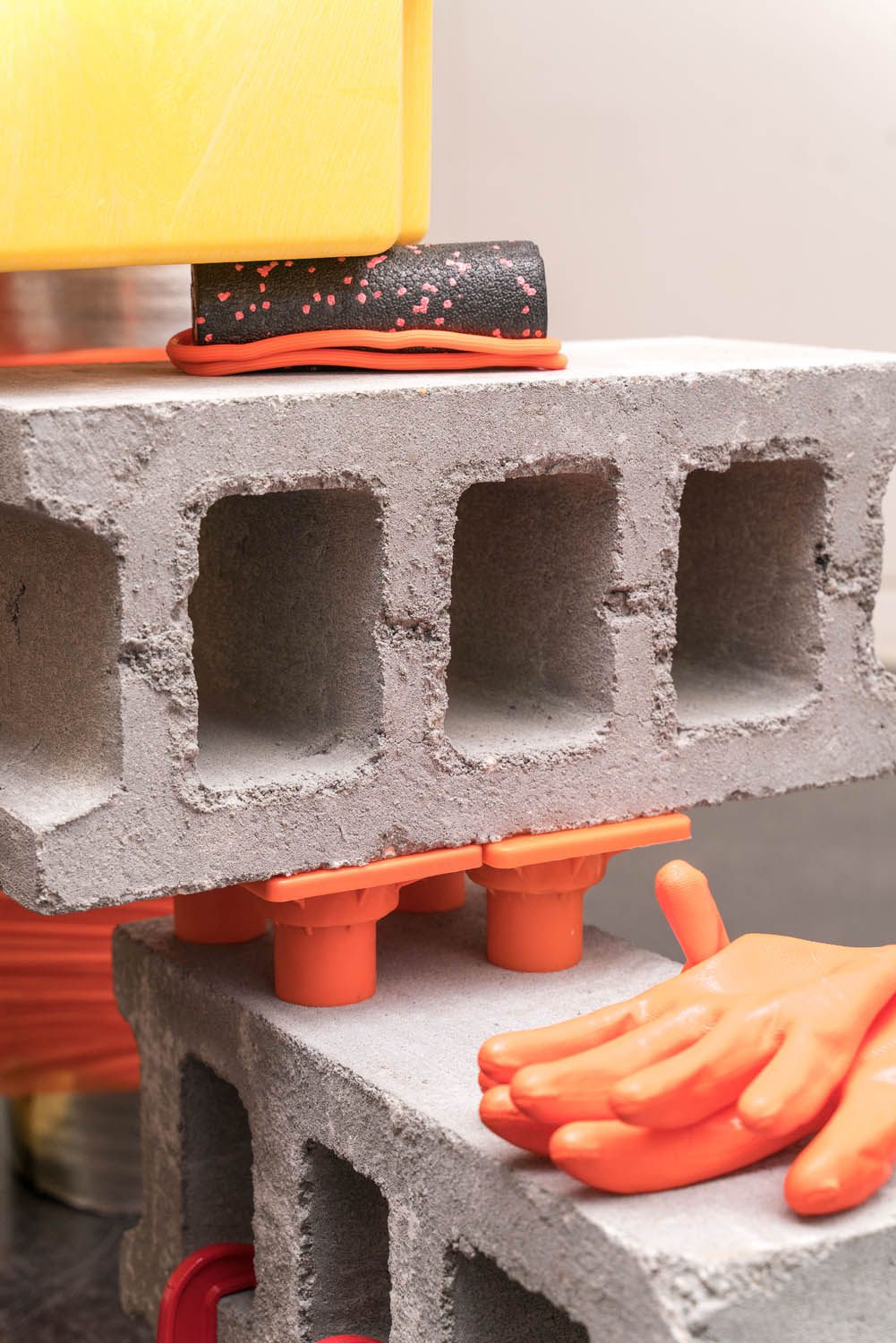 ●
'A PRECARIOUS DESK AND SOFTWARE FOR A PRECARIOUS WORKER'

●
EXHIBITED AT SPRING/BREAK, 2020, NYC
>LINK
●
EXHIBITED AT 'WORKING REMOTELY', A83 GALLERY, 2020, NYC
>LINK


>

SOFTWARE SCREEN GRAB
>

FIND THIS ON ITCH.IO





●
DRAWINGS OF INSTALLATION




●
PERCHED ON AN UNSTABLE GROUND OF STRUNG TOGETHER 'PLATFORMS', WORKING LIFE HAS LEFT THE OFFICE FOR SOME, AND FOR MANY IT HAS ENTERED THE HOME. PRECARIOUSLY BALANCED, THIS WORKSTATION IS A MOMENTARY ASSEMBLY OF FOUND ITEMS TENSIONED, STACKED, AND SUSPENDED, PERFORMING INSTABILITY. INSTEAD OF STRUCTURAL HEROISM AS THE DEPARTURE FOR BALANCE, AWKWARDNESS AND HESITANCE IS ACHIEVED THROUGH MOMENTS OF OVER- AND UNDER-ENGINEERING. ALL MATERIALS ARE LEFT AS A COLLECTION OF DISCRETE AND INTACT WHOLES. THESE WHOLES DRAW FROM CONSTRUCTION SITES AND EXERCISE PRODUCTS, SPACES OF PHYSICAL EXERTION AND PRODUCTIVITY.
ALL CONNECTIONS ARE MADE INDIRECT BY INTERVENING ELEMENTS. ONE LEG BOUNCES. ANOTHER IS TALLER THAN THE WORK SURFACE. THE LIGHT SWINGS. THE CHAIR SINKS. THE CAVITY OF THE TABLE ACCUMULATES THE DETRITUS IN A LIFE OF REMOTE-WORK.
>
AT THE DESK IS A DISASSEMBLED COMPUTER RUNNING A PSEUDO-DESIGN SOFTWARE. WITH IT ONE BUILDS NEW PRECARIOUS PLATFORMS BY STACKING AND LEANING OFFICE FURNISHINGS FROM THE 100+ YEAR CATALOG OF HERMAN MILLER, THE EMBLEMATIC SUPPLIER OF MODERNISM'S CORPORATE-INTERIOR IMAGE. NEW IMAGES AND FORMS EMERGE THAT OSCILLATE BETWEEN ABSTRACT AND FIGURATIVE, BETWEEN MOMENTARILY STABLE AND AN UTTER MESS.
---